Welcome to nursery 1 everyone
Welcome to all our new friends at nursery and welcome back to all the children who have returned from last term. The children have settled in so well and are all making new friends and seem to be enjoying themselves. It is great to see such a smooth transition for them all. We would also like to welcome our new EYP Miss Gemma Gavin to the team. We are enjoying getting to know her.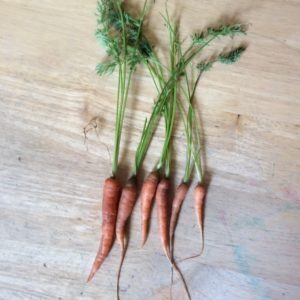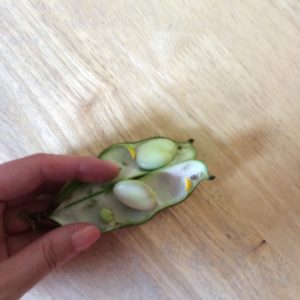 We are looking forward to the new term ahead. Our first few weeks back have been a great success.  The children have been busy weeding the garden and have investigated some of the vegetables that have been growing over the summer. They picked carrots and broad beans. The children were very interested in looking inside the pods for beans which grew very large. The carrots on the other hand were quite small but the children liked how "cute" they were.
There has been a keen interest in roleplaying doctors and nurses after one of the children found a stethoscope in nursery. We have created a doctors surgery and the children have been very excited to explore this area. It is great to see them using their imaginations.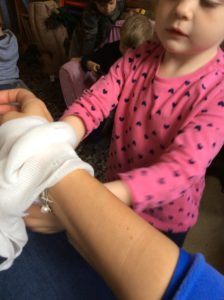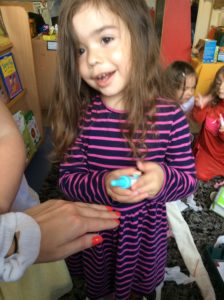 Now that the children have all settled in well we will be planning trips to the woodies and wheeled toys on alternate weeks. The woodies trip was a great success yesterday and everyone looked like they had fun. We have so many more exciting plans ahead. please keep checking the noticeboard for updates.