BROOMHILL SPRING FAIR is on Saturday 26th May from 12-2pm.
If you are free to help with any of our activities, either from 12-1pm or 1-2pm (or both!) please email:
pcbroomhill@aberdeen.npfs.org.uk
An hour (or 2 if you can spare it) of your time is all that's needed.
It's fun, easy, you help your kid's school, and you get to meet loads of new people!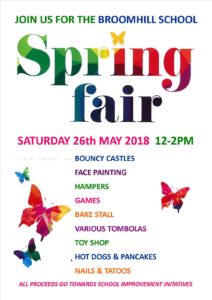 We need adult helpers for:
Creating Hampers ( Thursday prior to Fair)
Face painting
Tattoos
Nail painting
Chocolate Tombola
Hot Dogs
Pancakes/Donuts
Teas/Coffees
Front Door
Hampers
Raffle
Bouncy Castle
Games
Toy Boutique
Thanks in advance,
Jacqueline Rinchey