Expressive arts in nursery.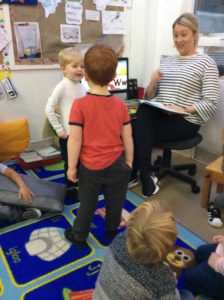 We have some budding actors in class! This week we have been acting out our story of the month "A Squash and a Squeeze" We are very impressed by their acting skills and how keen they are to take on different roles. Well done everyone!
Our new theatre in the cloakroom has been of great interest. The children have been making their own music with the instruments.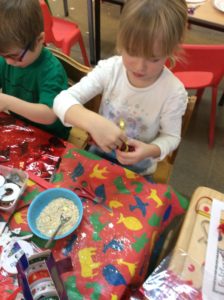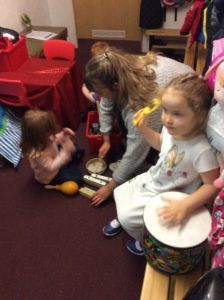 Our Christmas preparations are well underway! We have been busy making decorations to sell at our nursery fundraiser on the 7th and 8th of Dec. The nursery has been awash with glitter!
What fun we have learning songs from Fischy music at the end of each day. The children have responded really well to them. They have been quick to learn the words and actions and look forward to these sessions. The songs talk about feelings some of their favourites are the angry song, fabby dabby dee and always look on the bright side of life. I'm sure you may have heard them as you come into nursery.