We would like to invite you to attend an Open Afternoon on Tuesday 18th September. This will provide an opportunity for you to see your child's class in action in their new classroom.  From 2pm, P7 will be in charge of teas and coffees in the GP Room, in aid of Macmillan, so remember to pop along and donate to this worthwhile cause.  Mrs Mutch will also be seeking one or two volunteers to take part in a video question (2 mins) about "What makes a good learner?"
To allow for the large numbers of possible visitors, timings for the afternoon will be as follows:
1.30pm—2pm: Visits to P6 and P7 (Rm 19, Rm 20, Rm 21, Rm 22)
2pm—2.30pm: Visits to P3/4, P4 and P5 (Rm 12, Rm 13, Rm 15, Rm 16, Rm 18)
2.30pm—3pm: Visits to P1, P2 and P3 (Rm 4, Rm 5, Rm 7, Rm 8, Rm 9, Rm 10, Rm 11)
(a bell will ring to signify the end of each session)
This will be a normal working day for pupils and staff therefore staff will not be able to talk to you individually about your child's progress, this is an opportunity to see the class in action learning, and "put a face" to your child's new teacher.  For Health and Safety reasons, children will remain in class during this time and won't be permitted to move around the school with you. Please remember to collect a visitor's badge from the school office when you arrive.
Don't forget to pop in to the GP Room for a tea/coffee before/after your visit to class.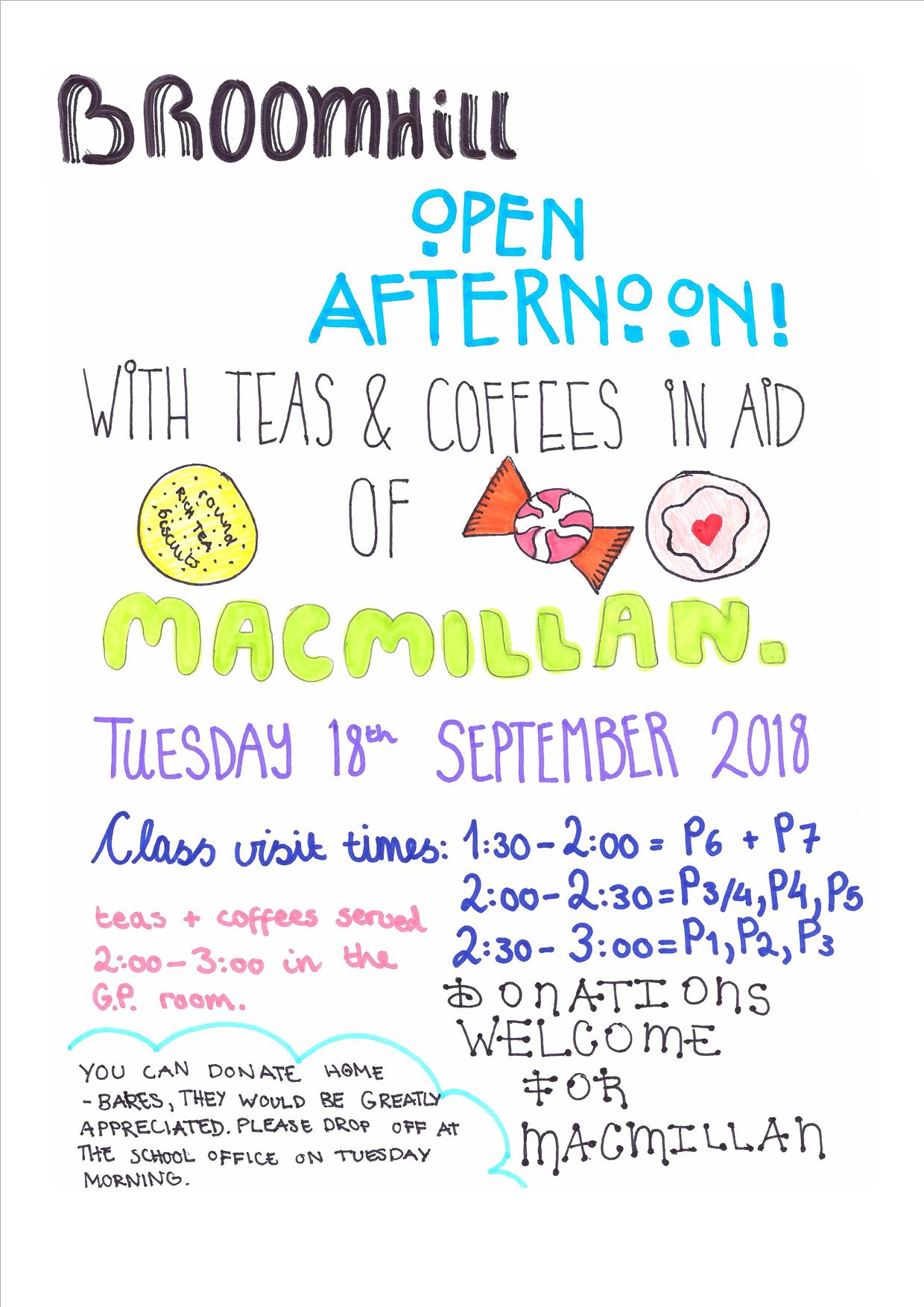 Home baking request – Macmillan Coffee Afternoon
We are looking for home baking donations for the Macmillan Coffee afternoon. If you would like to donate any treats please drop off at the school office on the Tuesday morning. Many thanks in advance.
Groupcall Xpressions – Open Afternoon Support
As part of the open afternoon, Miss Taylor will be available to talk to in the GP Room between 1.30pm and 3.00pm should you have any issues with setting up or using the Groupcall Xpressions app.
Miss Taylor, School Office